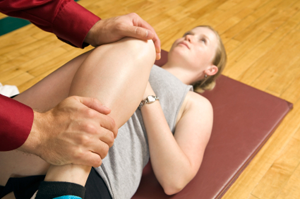 Chiropractic is a form of health care that focuses on disorders of the musculoskeletal system and the nervous system, and the effects of these disorders on general health.  Chiropractic care is non-invasive and drugless and used most often to treat neuromusculoskeletal complaints such as back pain, neck pain, pain in the joints of the arms or legs, and headaches.
Chiropractors often use a technique known as an "adjustment" or "manipulation."  The purpose of manipulation is to restore joint mobility by manually applying a controlled force into joints that have become hypomobile or restricted in their movement.
SMI chiropractors use traditional chiropractic manipulations in combination with other forms of therapy such as Active Release Techniques ® (A.R.T.), ultrasound, electric stimulation and therapeutic exercises to ensure a much more effective and holistic approach towards treating injury and dysfunction.