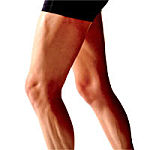 10 years ago, Dr. Brian Fullem DPM, wrote an article on IT Band Syndrome entitled "Beating the Band." Runner's World recently published an updated version of this article stating that it "has remained one of the most popular on our website."
SMI's mention in the article has resulted in numerous phone calls and e-mails from around the country asking for advice on treating this stubborn syndrome! We have even had a few desperate individuals make the trip to Palo Alto from Washington, Alabama, Massachusetts and around the country to receive treatment!
If you have any questions on IT Band Syndrome, please don't hesitate to contact us!
Here is a link to the complete article with exercises:
http://www.runnersworld.com/injury-prevention-recovery/beating-the-band